Choose one for them and one for you! Your WeSteep Tea bundle comes with two 2-oz. pouches, one of each tea variety you select; perhaps two different blends for some variety or double up on a favorite! With each 2-oz. pouch yielding around 30 cups of tea, you're in for many delightful sipping sessions ahead!
Regular price
Sale price
$26.50
Unit price
per
Sale
Sold out
View full details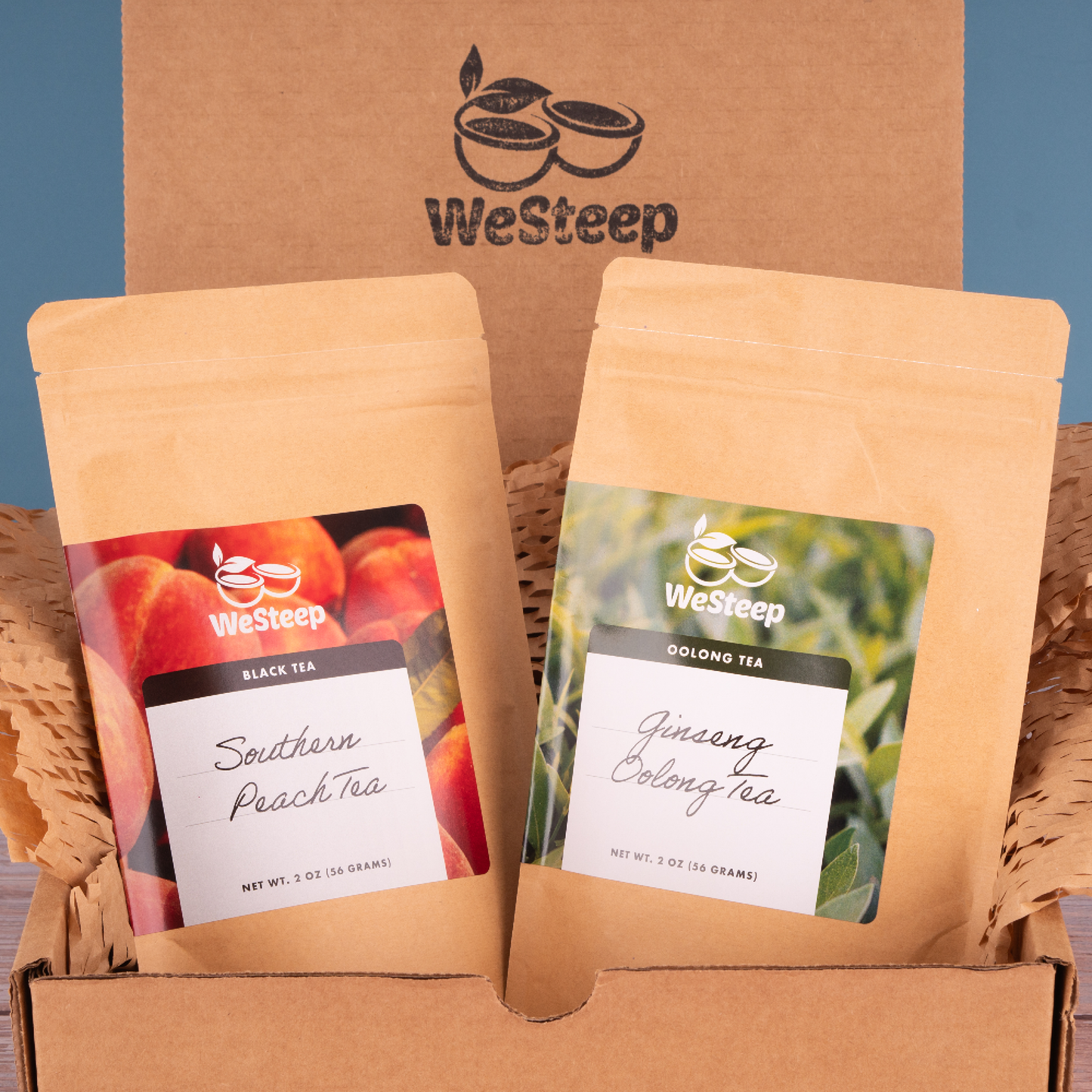 Collapsible content
Southern Peach Tea

Imagine your escape to a blissful and sunny orchard with our peachy black tea; a sip of sunshine that's perfect any way you brew it!
Ingredients: Organic Black Tea, Natural Peach and Vanilla Flavor, and Pink Peppercorns
Organic Masala Chai

Embark on a flavor adventure to India with our bold, spiced masala chai – sip, savor, and spice up your moments!
Ingredients: Organic Black Tea, Organic Cinnamon, Organic Ginger, Organic Cardamom, Organic Cloves, Organic Peppercorns, and Natural Flavor
Oh Snap! Ginger Snap Tea

Experience the cheerful charm of our Oh Snap! Ginger Snap Tea – a refreshing organic green tea with a hint of ginger.
Ingredients: Organic Green Tea, Organic Ginger Root, Organic Lemon Grass, and Organic Lemon Mytle
Golden Meadows Mint Tea

Unwind deliciously with a rooibos mint blend that soothes your mind and aids with digestion, making relaxation just a few sips away!
Ingredients: Organic Rooibos, Organic Peppermint, Organic Orange Peel, and Safflower Petals
Ginseng Oolong Tea

Elevate tea time and promote a feeling of well-being with Ginseng Oolong's intricate blend – a journey of floral notes, hints of spice, and sweet sips for pure tea joy!
Ingredients: Oolong Tea, Ginseng, and Licorice Root
Chamomile Lavender Tea

Wrap up your day with a soothing embrace – our Lavender Chamomile blend weaves relaxation and delight, perfect day or night!
Ingredients: Organic Lavender, Organic Raspberry Leaf, Organic Blackberry Leaf, Organic Chamomile, Organic Licorice Root, Organic Lemon Myrtle, and Organic Peppermint
Caramel Drizzle Tea

Indulge in this caramel-infused caffeine-free tea – the perfect treat for cozy moments amongst loved ones!
Ingredients: Honeybush, Caramel Pieces, and Flavor (Contains Milk Product)
Blueberry Breakfast Tea

Embrace mornings with a burst of blueberry bliss – this black tea offers a bold, subtly sweet gourmet experience!
Ingredients: Organic Black Tea, Blueberry Leaf, Cornflowers, Natural Blackberry, Blueberry, and Maple & Vanilla Flavor
But wait... there's more!